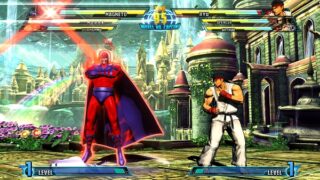 There's more to come for Capcom's famous crossover fighter. The publisher is teasing more news on Marvel vs. Capcom 3 at this year's San Diego Comic-Con.
Posted on the show schedule, Capcom has a Marvel vs. Capcom-focused panel, promising "fantastic news" for the game.
11:00-12:00 Marvel vs. Capcom— Fighting fans! Come to this panel to hear the fantastic news about this legendary fighting game franchise straight from producer Ryota Niitsuma. Get an exclusive behind-the-scenes peek as well as a chance to come onstage to showcase your fighting skills against each other for fantastic prizes. Followed by a Q&A session. Room 25ABC
Super Marvel vs. Capcom 3 incoming? According to internet rumors, yes.
Thanks, Siliconera.