Rune Factory 4 announced for 3DS
After a small feat on consoles, Rune Factory is making the return to handheld. The latest issue of Famitsu has revealed Rune Factory 4 for Nintendo 3DS. In development at Neverland Company and published by Marvelous Entertainment, it's scheduled to release in Japan this year.
The game allows players to choose from a male or female lead, the male being Lest (voiced by Kouki Uchiyama) and the female Frey (voiced by Chiwa Saito). From the small amount of information leaked so far, we know the game will have improved love elements and be produced by Yoshifumi Hashimoto. According to Hashimoto, the game will put out heart-warming situations with your other half, which he labels "quite embarrassing" moments.
See the first scans below: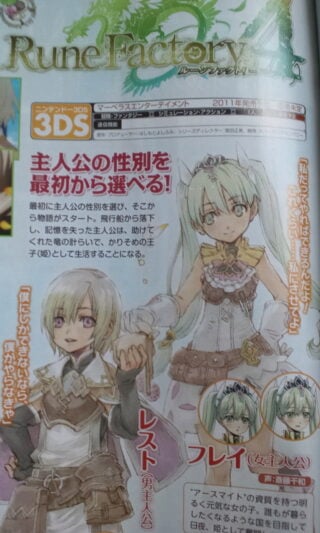 Thanks, Andriasang.