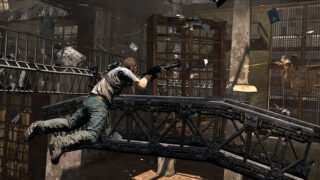 Turning the world upside-down, Inversion is an anti-gravity third-person shooter from publisher Namco Bandai and developer Saber Interactive. On display at E3 this week, a slew of new screenshots and a trailer, detailing a father in search of his missing daughter, have been released.
The game sees protagonist Davis Russel thrown into war after his city is invaded by an unknown force. With his daughter missing, he and his partner Davis Russel must rise up against the outsiders and master the new fundamentals of gravity.
Watch the E3 trailer below.
Check out the new screenshots at the gallery.
Inversion is out for PlayStation 3 and Xbox 360 in February 2012.