New Super Robot Wars announced for PlayStation 3 [Update]
More robots and mechs are coming to PlayStation 3 in Japan. This week's Famitsu has revealed 2nd Super Robot Wars OG, a new entry in the hit game franchise, reportedly featuring 2D battle scenes.
At the Tokyo Game Show in 2005, Banpresto announced it had a new Super Robot game in development for PlayStation 3, under the working title of Super Robot Taisen. We hadn't heard from it since. While we're not sure if today's announcement is the same game planned in 2005, it's a PS3 Super Robot Wars entry nonetheless.
A limited edition of 2nd Super Robot Wars OG including a four-disc set of all 26 episodes of the OG Divine Wars anime and a booklet will be available alongside the standard edition for 41,790 yen (approx. $513 USD). That's damned expensive!
Stay tuned for more details. For now, enjoy some (very blurry) scans below.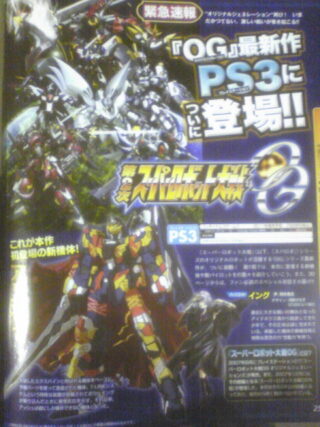 Update 10:54pm: Added two new scans.