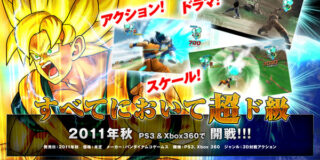 The Jump reveal article for the latest Dragon Ball project didn't reveal much in terms of details. However, the official site launch today provides us with a few small screens and details.
The images focus on Goku and Vegeta — the pair are battling it out, as they always do. The words "action," "drama" and "scale" are plastered on the page, promising to make you feel as if you've actually become the character when playing.
See the official site at the link. The game, currently dubbed Dragon Ball Game Project Age 2011, is out for PlayStation 3 and Xbox 360 this year.
Dragon Ball Game Project Age 2011 [Namco Bandai via Andrisang]