Red Johnson's Chronicles dated, new trailer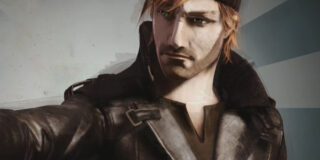 Lexis Numerique has announced Red Johnson's Chronicles, their puzzle-based crime investigation title for PlayStation Network, will launch on the service on April 19, 2011. A brand new trailer accompanied the announcement.
Red Johnson's Chronicles, a "10 hour-long adventure" with a "refreshing twist on classic point and click adventure gameplay", stars investigator Red, as he takes on the streets of Metropolis to solve a "vicious murder". The game is a combination of "exploration, puzzle solving and action." Today's new trailer clearly illustrates that fact.
Check it out below.
Additionally, Lexis has released new story information. Read that below.
The scene opens on Metropolis, the capital of crime. Here, even the police don't bother trying to keep the streets safe, and are more often on the side of wrong than right. A seasoned veteran in the field of investigation and a man who believes in all things just, Red Johnson is at his wit's end, tasked with taking on the criminals that the authorities don't care to touch. Shots ring out from down near Drownedmen's Bridge, and Red realizes that although he is stretched to his limits, it will be up to him to solve the case.

The victim is one of the most hated men in town, and as expected, Red is called upon to help find the murderer. While two women – Sonia an unstylish redheaded escort and Theresa the victim's insanely cold widow – are immediate suspects, Red soon encounters several other dubious characters that he must deem friends or foes. Interviewing the men in town doesn't make anything clearer, but only adds to the list of suspects. Raoul, a violent drunk who pretends to be king of the bums, Officer Robert who pushes his work off on everyone else and Saul, who suspiciously has all the answers that Red needs. As the suspect list grows, so do the enemies including mobster 'black plague' Carlos, who "don't take nothing from nobody."