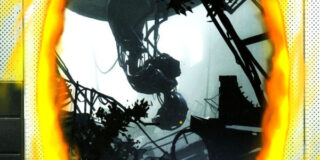 Back in 2008, when production on Portal 2 first began, developer Valve was creating a game without portals. Portal 2 was originally a prequel, set in the 1950s, utilizing a brand new gameplay mechanic that excited people at Valve.
The concept, codenamed F-Stop internally, lasted five months until it was canned. While Valve loved it, the testers hated it. They wanted portals in their Portal 2. They wanted Chell and GlaDOS, the pair of characters that made up the entire cast of the first game.
Unfortunately, the exciting new gameplay mechanic that never made it out of Valve is still being kept secret behind studio doors. Valve boss Gabe Newell has chosen not to disclose it. Perhaps they'll use it for a future game in the franchise.
This information comes from a new iPad article app, penned by GameTrailers TV host Geoff Keighley, chronicling Portal 2's development process in over 15,000 words. Titled The Final Hours of Portal 2, the app goes behind the scenes at Valve "for an unvarnished, behind-the-scenes look at the making of [Valve's] latest game Portal 2." Keighley was lucky enough to spend a few months at Valve during Portal 2's development, gathering and organizing material for the article.
If you own an iPad, download the app through this link. It's $1.99, but it's well worth it.