Famitsu reviews Yakuza: Of the End, Motorstorm: Apocalypse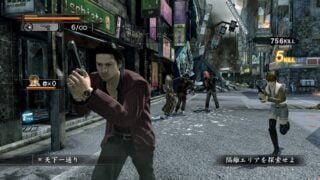 The latest issue of Famitsu's out and with it, reviews for Sega's zombie-filled Yakuza and Sony's earth-shaken Motorstorm. The Japanese publication's verdicts? Both very positive.
Yakuza: Of the End, which sets Kazuma Kiryu, Goro Majima, Ryuji Goda, and Shun Akiyama on high alert after a zombie outbreak in Kamurocho, received a 10, 9, 9, and 9, giving it 37/40. Motostorm: Apocalypse, which takes the franchise out of the dirt and into apocalyptic locales, crumbling to bits before the player's very eyes, received an 8, 8, 8, and 8, giving it 32/40.
The magazine also reviewed one DS and two 3DS titles. Powerful Golf (DS) received four 8s, and Steel Diver and Splinter Cell 3D (3DS) each received two 7s and two 8s.