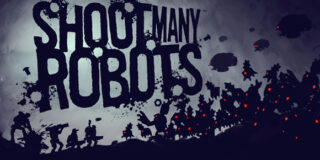 Boston-based Demiurge Studios will give its upcoming downloadable console game, Shoot Many Robots, a proper unveiling next week. The studio promises "details aplenty," letting out "one final teaser image" (above) as we await the coming information.
"A few months ago, we let the cat out of the bag that we were working on our first truly homegrown and original Demiurge project," the studio's Justin Lokey wrote on its official blog. "Our teaser trailer announcing the game was definitely short on details, and our silence on the project was something that had people wondering exactly what might be going on in a game called, "Shoot Many Robots." *sarcasm* Well, the time for silence is soon coming to an end. Next week we'll be blowing the lid off of this one, and there will be details aplenty. For now, have a peek at one final teaser image above."
Shoot Many Robots was announced last October. It promises "an onslaught of innovative cross-genre action" involving multiple players "fighting through an intense and chaotic robot uprising."
Demiurge Studios is one of the Boston's biggest independent developers. The developer has lent their expertise to franchises including Mass Effect, Borderlands, and Rock Band.