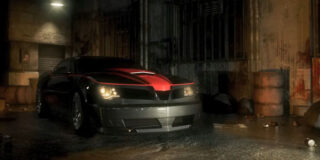 Namco Bandai's lifted the lid on a new entry in the Ridge Racer series, due out next year on PlayStation 3, Xbox 360, and PC. Ridge Racer: Unbounded, as it's titled, takes the series "in whole new direction by adding a punishing dose of destruction to the familiar arcade gameplay."
Bugbear Entertainment, the Finnish studio behind FlatOut and PSP's SEGA Rally, are developing the game.
"Ridge Racer Unbounded injects a shot of adrenaline into one of the most revered racing franchises in video game history," said Carlson Choi, vice president of marketing for Namco Bandai Games America Inc. "The talented Bugbear development team is committed to crafting a game with the amazing attention to detail the Ridge Racer series is known for, while also delivering a destructive game, fans old and new will appreciate."
Not much else is known about the game at the time, but a first trailer's been released. The clip, which offers no gameplay footage, shows a white car driving through the urban night. A woman walks out of the car and gets into a different black car. Then, she goes nuts with it, crashing all about.
See if for yourself below.