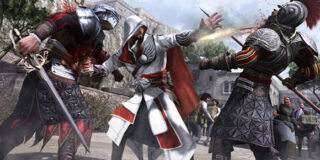 Ubisoft will announce the next Assassin's Creed game in May, company CEO Yves Guillemot has said.
Speaking to investors during the company's fiscal results this morning, Guillemot confirmed the new game for release this year.
"We will have an Assassin's Creed this year… We are going to give you more details in May," he said. He confirmed the game will be a "packaged title".
Ubisoft originally confirmed a "big" new Assassin's Creed in November. Earlier this month, Ubisoft told Famitsu 360 that the next entry in the franchise would be numbered.
Also brought up during the call, Assassin's Creed: Brotherhood, released in November, has since sold 6.5 million copies worldwide.
Thanks, CVG.