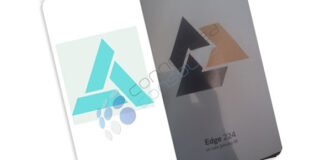 With Ubisoft confirming a new "another big Assassin's Creed" for 2011, an official reveal ought to come soon, right? If we're guessing correct on Edge Magazine's tease for their next issue, the new entry might be revealed on January 18.
The image above, captured by our friends at Connected Consoles, appears at the end of the latest issue. The logo on the left is that of Abstergo Industries, the Templar company that appears in-game. The logo on the right is that of the refurbished Animus, the machine Desmond uses to live out his ancestor's memories.
Assassin's Creed: Brotherhood has been out so it this tease shouldn't be related. Will Assassin's Creed III soon be in our grasp? Stay tuned.