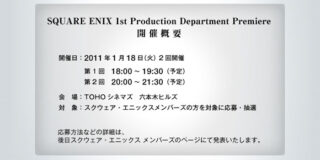 Square Enix has changed the date and name for their previously announced Fabula Nova Crystallis press conference — originally scheduled for January 11, 2011. The press conference is now titeld "Square Enix 1st Production Department Premier" and will showcase games from Square Enix's 1st Production Department. It'll now be held a week later on January 18, 2011 from 6 to 7:30pm Japan time, then held again from 8 to 9:30pm (the second showing is for fans).
Final Fantasy Versus XIII, Final Fantasy Agito XIII, and Dissidia 012 Final Fantasy have already been confirmed for the press conference, but more titles are expected to show.
An official site has opened for the conference, however, a lineup has not been shared.
Thanks, Andriasang.