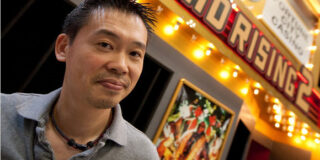 As the Tokyo Game Show closes its doors, new words come from the mouths of some of Japan's finest game developers. While the show had its selection of Japanese games, the domination of western titles was clearly evident. According to these esteemed developers — who are interviewed in a New York Times report — the Japan gaming industry is currently in a pickle as it plays catch-up with the west.
"I look around Tokyo Games Show, and everyone's making awful games; Japan is at least five years behind," Capcom Research and Development head Keiji Inafune told the New York Times during an interview at the show. "Capcom is barely keeping up.I want to study how Westerners live, and make games that appeal to them."
Jake Kazdal, a former Sega Tokyo and Elecronic Arts developer, has expressed his concerns, as well.
"Japan used to redefine gaming," he said. "Smarter developers in Japan are trying to reach out to the West. They're collaborating and trying to make games that have more global appeal."
Shinji Mikami, director of Resident Evil 4 and the upcoming Vanquish, recently announced a new game in collaboration with Grasshopper Manufacturer and Electronic Arts. Shadows of the Damned, which will appeal to a global audience, takes to a more inspirational development schedule than would a western game, which are more reliant on time and date.
"Japanese developers tend to work on inspiration, not so much on a set time schedule like the Americans," Mikami told the site. "So when EA asked about the game month after month, we felt like loan sharks were coming after us." Fortunately, EA was very understanding of their differences.
Square Enix President and CEO Yoichi Wada had his own opinion on the matter of globalization.
"How do you truly globalize? I think you have to work with people who grew up overseas, who grew up breathing the culture. It's impossible otherwise," he said. "The game industry is constantly changing. Everybody's joining the market. You just don't know what's coming next."
Do you think the Japanese games industry is in a pickle? The Tokyo Game Show did bring forth heavy hitters like Ni No Kuni from Level-5, The Last Guardian from SCE, and Yakuza: Of the End from Sega. What are your thoughts on the matter? Be sure to share them below in the comments section.