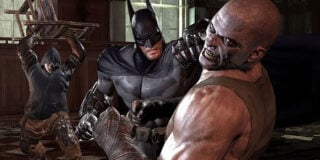 Rocksteady boss Sefton Hill has told the latest issue of Official Playstation Magazine UK that Batman: Arkham City is "four or five times" bigger than its predecessor, Batman: Arkham Asylum. He's also said that Batman has double the number of moves he had in the first game.
"Without a doubt, the hardest part of moving the game setting from the confines of the asylum into the urban sprawl of Arkham City was simply building the environment," he told the magazine.
"Our objective in this game is not to make the biggest game we can, but to make the best game possible. Gamers who played Batman: Arkham Asylum will know how dedicated we are as a studio to injecting an incredible amount of detail into every environment we build.
"It is this attention to detail that gives our games the deep and intense atmosphere that so many players have found so compelling, and so we have had to seriously scale up our art team in order to bring the same level of detail to Arkham City, which is about 4-5 times bigger than Arkham Asylum."
Batman will have all the moves he had from Arkham Asylum, plus a bunch of additional new moves, it seems. Hill says that the studio understands that "just scaling up" Batman's abilities wouldn't cut it for a sequel.
"In terms of gameplay, we knew very early on that just scaling up Batman's abilities and gadgets wasn't going to work as he is fundamentally facing a new game world and totally different range of enemies in this game, so we took his move set from Batman: Arkham Asylum and built from there," added Hill.
"Looking at the raw amount of animations in this sequel, Batman's moves have doubled in number and we also wanted to create an authentic sense of continuity from the end of Batman: Arkham Asylum, so the player will begin Batman: Arkham City with many of the same core gadgets that they unlocked in the first game.
"Batman's cutting-edge technology is a significant part of the game, so gamers can expect to see a range of totally new gadgets, as well as evolved new features built into those tools that they already enjoyed in Batman: Arkham Asylum."
The game's out in fall 2011. OPM UK's story on the game is a fourteen-page long cover, if anybody in the UK wants to pick it up.
Thanks, CVG.