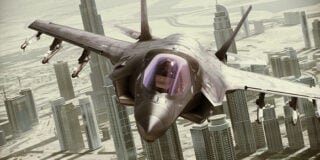 Twenty new screenshots and a new trailer for Namco Bandai's upcoming Ace Combat: Assault Horizon have been released out of the Tokyo Game Show today. The trailer looks like it has some gameplay in it, as you'll see button commands pop up on screen from time to time.
I've been hearing that this is a big departure from past Ace Combat titles. I haven't played any, so I can't really contribute, though. Enlighten me in the comments if this game really is that big of a change.
Ace Combat: Assault Horizon is slated for PlayStation 3 and Xbox 360 for sometime in 2011. All twenty new screenshots can be found at the gallery. The new trailer can be viewed below.