Is Yakuza coming to an end?
A promotional advertisement for Sega's yet-to-be-titled Yakuza game for PlayStation 3 popped up in this week's issue of Famitsu. While we've yet to learn any details about the upcoming game, we do know we'll see its reveal at the Tokyo Game Show.
By the looks of it, this may just be the last Yakuza game.
The two-page ad spread shows the entrance to Kamurocho – the series' main setting – with the buildings and cars behind it looking like something out of Fallout 3. An earthquake looks to have struck the city. On top of the picture, we see the words "The End".
When the game was first announced, an interview with series director Toshihiro Nagoshi revealed that the game's keyword would be "destruction". It looks like that's clearly displayed in this ad spread.
Sega's already confirmed the four playable characters for the game: Goro Majima, Kiryu Kazuma, Shun Akiyama and Ryuji Goda. We'll see how it all comes together at the Tokyo Game Show. We'll also see if this really means the end for the Yakuza series.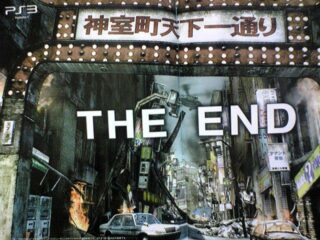 Thanks, Andriasang.