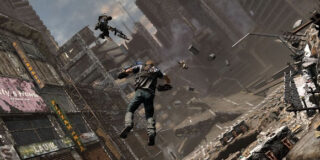 If the name Inversion doesn't ring a bell it's probably because the last time you heard of it was in October 2009 when Namco Bandai first announced it. After almost a year of silence, it's returned at Gamescom in Cologne with a new set of screenshots.
The third-person shooter shooter promises "revolutionary gravity-wielding combat, zero gravity environments, vector changes, and a unique destructible cover system". No word on a release date, but we'll be sure to keep you informed.
Check out the new screenshots at the gallery.