SOCOM 4 delayed into 2011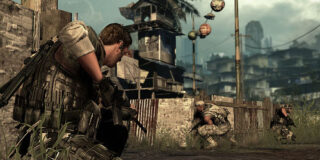 Uh-oh. Those looking forward to playing SOCOM 4 this fall might be a bit disappointed. Zipper's announced today that the game has been delayed from its original fall 2010 release to sometime in 2011.
"Some of you may have heard through your favorite media outlets that SOCOM 4 is now a 2011 title, and we are writing this letter to you, our community, to confirm that SOCOM 4 is indeed scheduled for release in 2011," SOCOM community manager Jeremy Dunham announced on the official blog.
"While we're certainly aware that you've been looking forward to playing SOCOM 4 this year, we don't want to take any shortcuts. Instead, we want to deliver the best and most immersive SOCOM game we possibly can and we're going to use our extra time to do just that."
Of course, we wouldn't want a rushed game. While a delay does suck for us, it's usually always best for the game itself.