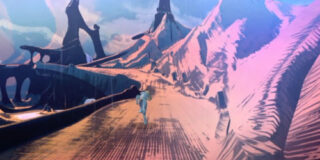 The debut trailer for El Shaddai: Ascension of the Metatron has been released out of E3 tonight. It is the first in a two-part series, which will describe the story of the upcoming fantasy action title.
The game is about Enoch, a brave human caught in the middle of a rivalry between Heaven and the Fallen Angels. His job is to gather these Fallen Angels in order to save the world from a flood under God's command.
The new trailer is subtitled in English. Audio is Japanese. The game's out in 2011 for PS3 and Xbox 360. Unfortunately, the only essence of it on the E3 show floor is this trailer.