OFLCA rates Persona for PlayStation 3 [Update]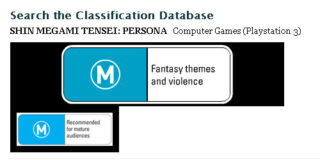 Update: The listing has changed to a PSP listing. Looks like it was a typo on their end.
Original: The OFLCA, or the Australian rating system, has recently rated Atlus' Shin Megami Tensei: Persona for PlayStation 3. That's right. PlayStation 3.
The rating was classified yesterday, giving the role-playing game an M including fantasy themes and violence. Not much else can be said from the listing.
As a brief not for those unaware, a Persona game was not announced for PlayStation 3. There have murmurs going on and off about a fifth game hitting the console, however.
See the rating through here. Maybe E3 will let us know what comes out of it.