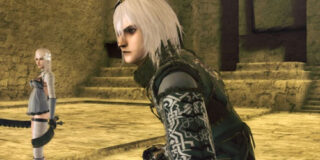 While Square Enix have clearly established two core role-playing game franchises, them being Final Fantasy and Dragon Quest, they feel they've only established one action role-playing game franchise, that being Kingdom Hearts.
According to Square Enix producer Yosuke Saito, development on Nier began as a "second pillar" to Square Enix's action RPG, hoping it would one day be within the ranks of Kingdom Hearts. Whether or not it will be is still to be judged.
Yosuke also reassures players that optional "quests, fishing, growing, and many detours" are available in the game that will keep players busy for a long time.
Nier launches on Xbox 360 and PlayStation 3 tomorrow, April 27, 2010. The image at the top of this post in from Nier Replicant, the PlayStation 3 exclusive title for Japan.
Thanks, Mantan Web (via Siliconera).