Neptune stars transforming game console goddess, fights piracy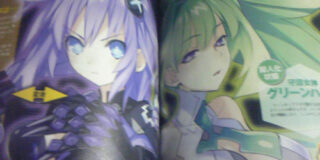 Yesterday, new Famitsu scans revealed Compile Heart's next PlayStation 3 RPG, Neptune. While yesterday we had little information, we know a whole lot more today – thanks to even newer scans that have surfaced.
Oddly enough, Sega's the publisher.
Neptune takes place in the universe of Geimugyokai, or the Games Industry, where four different goddesses reign over four separate worlds. The four worlds are Platetume, Rinbox (Xbox 360), Lasdition (PlayStation 3), and Ruwii (Wii) – the goddesses being Purple Heart, Green Heart, Black Heart, and White Heart.
The main character, Neptune, is a video game system that transforms into a girl. She'll need to work together with the goddesses to defeat the evil goddess Majekonnu (a term used to describe DS piracy cards like the R4).
At the moment, I'm unsure of whether or not Neptune is the purple heart goddess. Although from the images in the scans and the fact that there's only one original goddess, that's what it seems.
Neptune wil battle in 3D, with the ability to summon guardian angels from actual games or from pictures in the PlayStation 3 photo library. Players will be able to customize her appearance and combos, as well.
Game companies will be present in the game, being represented by individual characters. You can expect Gust, Nippon Ichi Software, etc.
The concept of a video game about video games really seems interesting, especially if it's an RPG. Check out the new scans below.
Thanks, AGB.