Irem: "We are still developing Bumpy Trot 2"
'The release date of new information has not been decided.'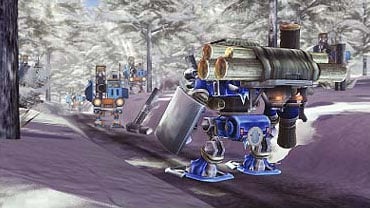 We last heard from Irem's Bumpy Trot 2 (Steambot Chronicles 2 in the west) in March last year. But in spite of the lack of new information, Irem has told Gematsu (known as ScrawlFX at press time) Bumpy Trot 2 is still in production.
"We are still developing Bumpy Trot 2," Irem told Gematsu in an e-mail. "We are now trying to release it in Japan as soon as we can."
According to Irem, "The release date of new information for Bumpy Trot 2 has not yet decided."
As for whether or not it will remain a Japan-exclusive when it launches, Irem said, "We are sorry, but the plans for releasing it in other countries have not yet decided."
Atlus localized the first Steambot Chronicles. Hopefully they'll pick up the sequel when it launches.