GDC '10: Blade Kitten details and screenshots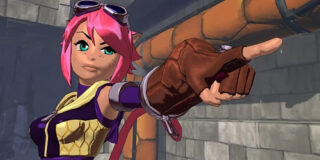 Blade Kitten, an upcoming 2D/3D platformer for PlayStation Network, is being shown off at the Game Developer Conference this week. A playable version of the game has brought in new information and screenshots.
Kit Bellard, the game's pink-haired protagonist, is armed with a floating sword named the Darque Blade. The sword allows her to attack enemies in close quarters and from a distance. It can also be used to activate switches and disable enemy shields; think of it as an extendo-arm. L2 allows Kit to shield herself with the sword.
Unlike other platformers, the standard attack (sword) has many different variations. So playing around with the buttons can change up the attack so it won't always be the same thing.
Kit has the ability to fight, climb, sprint and slide. Supposedly, use of all these abilities are "surprisingly deep." Apparently, the player has early access to all Kits techniques, unlike games such as Metroid where it would take a while before you earn a good amount.
Blade Kitten should hit PlayStation Network this Spring. For now, check out a few new screenshots available at the gallery.
Thanks, Kotaku.