Before starting up BioShock 2, I was a bit worried about whether or not it'd capture the astonishment in my mind that the first BioShock seemed to grasp so tightly. A lot of fans were a little uneasy about a part two, claiming it was an unnecessary sequel. Although, after playing, enjoying and completing BioShock 2, I can officially negate that claim.
BioShock 2 brings players back into the world of Rapture; of course, it wouldn't be BioShock if you were brought elsewhere. It's set ten years after the first game, in 1968. Enter Delta, a prototype Big Daddy with the ability to make decisions for himself. You don't normally see that ability in other Big Daddies. He's been dead for ten years, thanks to the work of Sofia Lamb — a psychologist who's spread a deranged religion throughout Rapture causing Splicers (your common enemy) to obey her every word.
A girl — once a Little Sister — named Eleanor is the key in the plot. She's taken away from Delta in 1958 by none other than Lamb before hypnotizing him and forcing him to kill himself. Ten years later, Delta awakes, only with a desire to find Eleanor — his Little Sister and Lamb's daughter — whom Lamb is hiding so securely. Throughout the game, you're aided by Augustus Sinclair, also known as the man who invented the Vita-Chambers players will use so often (turn them off!).
In comparing the first two games, you'll find a lot of similarity between BioShock and BioShock 2. Most of the user interface is the same: the health and eve bars, the store interface, the start menu, and plasmid and weapon selections. However that's acceptable because there was really never anything wrong with them. What they did change, though, was the things that may have irked people about the first game. Hacking is now a much easier and quicker process. No more tunneling water through pipes for two minutes, but rather landing a needle in a green zone a few times.
A few new weapons have been added, but while we're still on the subject of hacking, one of these new weapons was specifically made for that. The new Hack Tool allows you to shoot darts from across the room and hack from a distance. This will come in handy big-time when you have multiple security cameras trying to signal the alarm off, causing security bots to come full throttle at you. Also on the new weapons list, a Spear Gun replaces the first game's Cross Bow, and with all respects paid to the first game, I think I prefer the Spear Gun a lot more. A Rivet Gun replaces the Pistol, which shoots like a machine gun, only slower, but does more damage. The Drill replaces the Wrench, which is plenty of fun to use and really helps against Big Sisters. There's more, of course, but I won't say them all.
BioShock is known to add a bit of role-playing game elements to its FPS flavor. That's done with Plasmids and Tonics. Plasmids are fluids Delta can inject to use abilities such as electricity, fire, ice, hypnotize and more. There aren't many new plasmids in the second game, but that's passable since the plasmids from the first game are just too much fun. Although, Plasmids do cost ADAM to get. That's what Little Sisters are for, though, right?
Tonics, on the other hand, give players special abilities like extra defense, higher attack damage with certain weapons, or even the ability to heal while standing in water. There are a lot to equip, but only so little that you can. Even when you unlock every slot to equip Tonics, you'll find yourself wanting more.
Splicers are the common enemy in BioShock 2. While we see Leadhead Splicers, Thuggish Splicers and other groups make a comeback, there are new Splicers to fight such as the ground-shaking Brutes. Fighting Splicers and other enemies is usually fluid, fast-paced action where you'll find yourself running around, dodging attacks, while freezing one enemy from behind and electrocuting another on the side. It's really hectic and does just what it needs to do to separate BioShock 2 from any other first-person shooter out there.
Since you're a Big Daddy this time around, you'll find yourself taking on other Big Daddies so you can steal their Little Sister. After taking her, she'll be loyal to you and help you find ADAM. After finding ADAM, the Little Sister will begin injecting her needle as the Big Daddy (that's you) fights to protect her. Once she's done, you pick her up, do it one more time, put her in a vent and decide whether to save or harvest her. Of course, saving her gives you less ADAM to use on those nice little plasmids but results in her purity. Harvesting kills the girl, but gives you a larger amount of ADAM.
We've spoken about Little Sisters, but now let's talk Big Sisters. They're to BioShock 2 as what bread is to butter. Forget fighting Big Daddies, you'll find yourself fighting them like they're ordinary Splicers. Big Sisters are what you should be worried about. See, they don't like it when you save Little Sisters. And every time you save a certain amount, one of them is going to come for you. Their agile movements, plasmid abilities and glass-breaking screeches make them difficult opponents to face. But trust me, you'll enjoy every minute of it. Be sure to get a picture.
Speaking of pictures, early on in the game, players will find a Research Camera. Just like in the first game, this Research Camera is used to take pictures of enemies in order to further your knowledge of them and gain enhanced abilities such as increased damage. Cool, right? Yes. However, what BioShock 2 has done to upgrade the camera is turn it into a video camera where players are now rewarded more for what ever means they go about to kill the enemy. That means for max research points, players must throw all their plasmids and use every sort of weapon against them. It's really a much better system than that from the first game.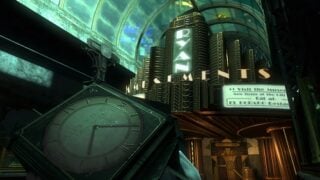 One of BioShock 2's most remarkable points to invoke is the city it takes place in. Even though we've seen Rapture before, it hasn't lost its charm, its futuristic but still 1960s feel, and the desire it brings us to listen to old music. It's still magnificent, full of life (Splicer life, actually) and waiting to be explored. This time, players actually get to go out into the ocean to get between buildings, which really lets you get a better look at the marvelous piece of craftsmanship that is Rapture.
Players will explore a variety of locations. I really don't want to give any of them away, but each location is especially unique. You can tell the team at 2K Marin and 2K Australia really put their best efforts into the design, leaking water in just the right places, and giving us that "wow" factor every time we enter a new area. You're going to find yourself going off-course hundreds of times just to take a look at every room or location possible. Everything really is stunning.
Admittedly, BioShock 2 is short compared to its predecessor. It took me about eleven hours to fully complete (take in mind, I saved every Little Sister and gathered ADAM for each) while the first game took me around twenty-two hours to complete. However, BioShock 2's added multiplayer element makes up for that. It's described as a prologue, but it's really to just add some story behind it. Players take the role of a Rapture citizen in 1959. This is before Rapture was run-down and destroyed. Sinclair Solutions sponsor the player to test out their plasmids in the Rapture Civil War.
That's where the online comes in. The Civil War is really just you and your buddies online thrashing it out with plasmids and weapons from the game. However, they come at a price. Players need to rank up (and there are a lot of ranks) to get better plasmids and weapons as they only start out with a pistol, a shotgun, and the electric, fire and winter blast plasmids. It's actually a pretty addicting online mode that I found myself sucked into for hours.
To cut this whole thing short, BioShock 2 is a one of a kind first-person shooter that should not be missed. Its fantastic story, fast-paced gameplay, and highly-addictive plasmid and weapon selection are unique and all their own. The atmosphere is extremely well done and exploring it is like a baby playing with a new toy. You'll be sucked into the screen for hours. Although a bit shorter than the first game, the addition of multiplayer balances the bar. There's your replayability and there's your single-player story. What more could you want? BioShock 2 is a worthy competitor to its predecessor and simply pushes the envelope.
BioShock 2 was reviewed on a PlayStation 3. The single-player campaign was played to completion and the multiplayer prologue was played to rank 10. BioShock 2 can be purchased on PlayStation 3 and Xbox 360 for an MSRP of $59.99 and on PC for $49.99.