Fret Nice hits PSN this Thursday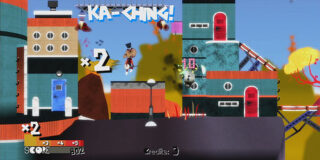 Fret Nice is launching on PlayStation Network this Thursday and probably shortly after for Xbox LIVE Arcade. You're probably wondering what this is. So was I. Luckily, Tecmo gave us a nice rundown on the PlayStation.Blog.
The game is basically an action platformer that you play with the guitar controller. Of course, you do have the option to play with a regular controller as well. It's not a rhythm game, but it is "musically endowed".
There are "Riff Combos" in which a player must play the guitar to do correctly. It looks like you'll use these to attack the enemies.
Anyway, that's about all I got. Check out the trailer to see it in action for yourself.