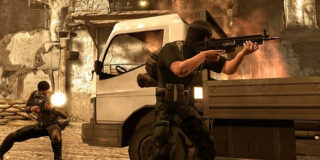 Sega has taken the liberty of officially announcing the release date for Alpha Protocol today. For the uninformed, it's describd as "the first modern day spy RPG" in development at Obsidian Games — whom are also working on Fallout: New Vegas. Alpha Protocol will launch in North America on June 1, 2010 in North America and on May 29, 2010 in Europe.
"The wait has been worth it. It is time for an RPG to go beyond fantasy and space," said Sean Ratcliffe, Vice President of Marketing for SEGA of America. "The genre needs a shot in the arm, and renowned developer Obsidian has delivered. Alpha Protocol will be the absolute best it can be and we look forward to revealing fresh aspects of it to the community in the upcoming months."
New media have also been released today. Check out the screenshots and new official box art at the gallery. A new "Man Alone" trailer can be seen below.
SEGA'S ALPHA PROTOCOL, THE FIRST MODERN DAY SPY RPG; TO HIT STORE SHELVES ON June 1st, 2010 IN NORTH AMERICA

SAN FRANCISCO (February 25, 2010) – SEGA® of America, Inc. is proud to announce that Obsidian Entertainment's long awaited Alpha Protocol™ is hitting store shelves this summer. The espionage game, a fiercely original take on the role playing game genre, will launch in North America for the Xbox 360® video game and entertainment system, the PlayStation®3 computer entertainment system and PC on June 1st, 2010.

"The wait has been worth it. It is time for an RPG to go beyond fantasy and space," said Sean Ratcliffe, Vice President of Marketing for SEGA of America. "The genre needs a shot in the arm, and renowned developer Obsidian has delivered. Alpha Protocol will be the absolute best it can be and we look forward to revealing fresh aspects of it to the community in the upcoming months."

With a plot torn from today's headlines and more twists than a season of "24", Alpha Protocol brings a new level of modern day realism to the world of RPGs. Tasked with uncovering the perpetrators behind a tragic missile attack on a passenger jetliner, players dive into a story rich with characters and locations to discover an international arms-dealing conspiracy. Through their actions and choices, players direct the outcome of the game as they ultimately decide who to befriend, trust or kill.

In Alpha Protocol, players assume the role of rookie spy Michael Thorton and are given unprecedented control over the development of his abilities and interactions with other characters. Customizable character skill-sets, attributes and weapons all play an important role in allowing gamers to tailor Thorton to their play-style.

Gamers that pre-order Alpha Protocol through GameStop will receive the Exclusive Assault Pack, containing exclusive weapons and ammo like the UC Regulator high damage shotgun and Rittergroupen Grizzly high accuracy rifle. For more details visit www.gamestop.com.

Alpha Protocol is set to release on June 1st, 2010 on the Xbox 360® video game and entertainment system, the PlayStation®3 computer entertainment system and PC. For more information visit http://www.alphaprotocol.com/us/main.php