7-Eleven awards God of War III DLC through Slurpee campaign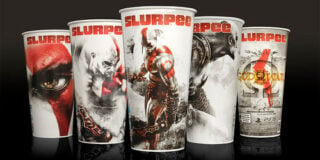 7-Eleven sells games, if you didn't already know. They'll be having their own Slurpee campaign for God of War III. Besides some God of War III-branded Slurpee cups, the store will be offering some pretty descent goodies if you buy the drinks.
From February 1st to March 31st, buying a Slurpee at 7-Eleven will come with a reward code that can be redeemed at Slurpee.com for exclusive God of War III and Slurpee-themed downloadable content.
This includes a brand new outfit for Kratos, making his body paint blue and giving him a grimmer look in the face, a dynamic theme for PS3, PlayStation Home t-shirts, and a Creating the Chimera feature.
We've included a shot of the new God of War III outfit below. It looks badass, to simply describe it.
Kratos Fury Invading Local 7-Eleven Stores [PlayStation.Blog]