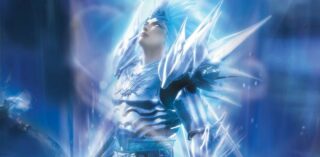 Dynasty Warriors: Strikeforce, the enhanced PlayStation 3 and Xbox 360 version of the PSP original, has been announced by KOEI Tecmo to launch in North America this upcoming February. The PlayStation 3 version of the game is set to feature Ninja Gaiden Sigma 2 characters while the Xbox 360 version features Warriors Orochi 2 characters.
Dynasty Warriors: Strikeforce takes the game online, allowing gamers to play with up to four players on one team, making it a true cooperative title. This new console version of the game, considering it was originally a PSP game, has 40 brand new, exclusive missions not in the original game.
The box art has been released with the announcement. See that at the gallery.
ONLINE MULTI-PLAYER DYNASTY WARRIORS®: STRIKEFORCE COMING TO CONSOLES ON FEBRUARY 16, 2010

Launch multi-player tactical raids on Imperial China from your Xbox 360® video game and entertainment system from Microsoft and PlayStation®3 computer entertainment system

Burlingame, CA, November 19, 2009 — The world's premier action franchise is back with a vengeance and for the first time going online with four-player Tactical Action combat. KOEI Corporation today announced DYNASTY WARRIORS®: Strikeforce is coming to Xbox 360® video game and entertainment system from Microsoft and PlayStation®3 computer entertainment system on February 16, 2010.

DYNASTY WARRIORS: Strikeforce takes place in a mystic version of ancient China where warriors possess the power of "Fury". This power gives them superhuman strength, lightning fast speed and the ability to fly. Taking the role of any one of over 40 playable characters, up to four friends can go online to launch raids as a team or battle it out competitively.

Using voice or text chat to coordinate assaults, players will go on campaigns to infiltrate heavily-armed enemy strongholds, clash with thousand-man armies, or to slay dragons and other massive beasts. In single-player mode, players have the option to choose and command up to three AI-controlled officers to join them in offline missions.

KOEI is introducing several new game elements exclusive to the console version of DYNASTY WARRIORS: Strikeforce including over 40 console-exclusive missions, command of up to three AI-controlled officers, an enemy "Hyperbreak" gauge, the ability to plan special combat tactics, new playable character "Meng Huo", and online officer trading.

Earlier this year at the 2009 Tokyo Game Show, the game's producer Kenichi Ogasawara of Omega Force took to the stage with Team Ninja's Yosuke Hayashi, producer of Ninja Gaiden Sigma®2 to reveal details about a crossover within DYNASTY WARRIORS: Strikeforce. As part of their collaboration, iconic figures from TECMO's Ninja Gaiden Sigma 2 will appear exclusively in DYNASTY WARRIORS: Strikeforce for PS3™ while characters from KOEI's WARRIORS OROCHI®2 will make guest appearances in DYNASTY WARRIORS: Strikeforce for Xbox 360®.

By completing guest character challenges, players will win the right to use that guest character's signature weapon in combat.

DYNASTY WARRIORS: Strikeforce comes action-packed with over 40 new console-exclusive missions, with more than 200 quests in all. To further whet the appetites of fans, players can also download new campaigns from Xbox LIVE® Marketplace for the Xbox 360® video game and entertainment system from Microsoft, and PlayStation®Network.

For the latest updates, follow @KOEIcorp on Twitter and visit the official minisite at www.koei.com/strikeforce