Win a MAG beta code, play the beta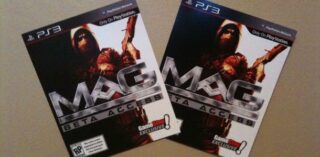 Here's the deal. We've done our usual GameStop raid and were able to get two beta codes for Sony and Zipper Interactive's upcoming 256-player online FPS, MAG. Right now, the game's in its beta stages and will be there until November 20th. That means if you were in the beta, you'd have access until then.
Now you can be. We're giving away the beta codes we have to two lucky winners. Remember, that's two! Want to win? Rules are simple: tell us what it is about MAG that pulls your interest. That's all. Leave comments below and we'll pull two random winners on Thursday night, where you could then play the beta.
Good luck!