Metro 2033 announced for Xbox 360, PC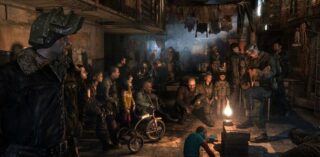 Metro 2033 was originally announced a while ago — back in 2006 — for PlayStation 3 and PC. At that time, it was without a publisher. Today, THQ's announced that they'll be publishing Metro 2033 and that it's coming to Xbox 360 and PC.
Metro 2033 takes place in a future where the world is raised underground in Metro Station-Cities, struggling for survival. As Artyom, you'll forgotten catacombs beneath the subway to the desolate wastelands above, and end up determining the fate of mankind.
The game releases early 2010. Check out three new screens at the gallery. The first trailer can be seen below. You'll see a resemblance to the "I don't want to set the world on fire," Fallout 3 trailer.
THQ ANNOUNCES METRO 2033 FOR EARLY 2010 DEBUT ON XBOX 360 AND PC

AGOURA HILLS, Calif. – THQ Inc. (NASDAQ: THQI – News) today announced Metro 2033TM, a new first person shooter for Xbox 360® and PC based on the best-selling Russian novel of the same name by Dmitry Glukhovsky. Developed by Ukrainian studio 4A Games, and built with the cutting edge, proprietary 4A Game Engine, Metro 2033 is set to deliver a gripping, atmospheric experience. The PC version supports NVIDIA® PhysX® technology to enhance the incredibly realistic worlds and provide even more immersive gameplay. Metro 2033 is scheduled for release in early 2010, and the first trailer is available to view on the official website at www.Metro2033Game.com.

"Metro 2033 will plunge gamers into a terrifying vision of the future," said Richard Williams, vice president of global brand management, THQ. "4A Games have worked closely with Dmitry Glukhovsky to deliver a unique game world, a compelling, cinematic story and an incredible, atmospheric experience to rival anything in the category."

"Metro 2033 boasts some of the most advanced graphics and PhysX effects we've ever seen," said Ujesh Desai, vice president of GPU business at NVIDIA. "From what we've seen so far, this will be a showcase PC gaming title for 2010!"

About Metro 2033

Set in the shattered subway of a post apocalyptic Moscow, Metro 2033 is a story of intensive underground survival where the fate of mankind rests in your hands.

In 2013 the world was devastated by an apocalyptic event, annihilating almost all mankind and turning the earth's surface into a poisonous wasteland. A handful of survivors took refuge in the depths of the Moscow underground, and human civilization entered a new Dark Age.

The year is 2033. An entire generation has been born and raised underground, and their besieged Metro Station-Cities struggle for survival, with each other, and the mutant horrors that await outside.

You are Artyom, born in the last days before the fire, but raised Underground. Having never ventured beyond your Metro Station-City limits, one fateful event sparks a desperate mission to the heart of the Metro system, to warn the remnants of mankind of a terrible impending threat. Your journey takes you from the forgotten catacombs beneath the subway to the desolate wastelands above, where your actions will determine the fate of mankind.

About Dmitry Glukhovsky

Dmitry Glukhovsky, (born 12th June 1979) is a Russian author and journalist.

Glukhovsky's first novel, Metro 2033, was originally made freely available via his own website in 2002 and quickly became a cult classic, attracting thousands of readers. A publishing deal followed, and Metro 2033 was eventually released in hard copy in 2005. It has since sold 450,000 copies in Russia, whilst online readers have topped 2 million. The rights have been sold to more than 20 countries, including Germany where the book has already been released to critical acclaim; and the UK, where it goes on sale later this year. Metro 2033 the game has been in development at 4A Games for just over two years, and the film rights are currently in negotiation with a number of Hollywood studios.

As a journalist, Dmitry Glukhovsky has worked for EuroNews TV in France, Deutsche Welle, and the Russian Television station, RTtv. He writes columns for Harper's Bazaar, l'Officiel and Playboy.

Glukhovsky has lived in Israel, Germany and France and speaks English, French, German, Hebrew and Spanish apart of his native Russian.

About THQ

THQ Inc. (NASDAQ: THQI – News) is a leading worldwide developer and publisher of interactive entertainment software. The company develops its products for all popular game systems, personal computers and wireless devices. Headquartered in Los Angeles County, California, THQ sells product through its global network of offices located throughout North America, Europe and Asia Pacific. More information about THQ and its products may be found at www.thq.com. THQ and the THQ logo are trademarks and/or registered trademarks of THQ Inc.

All other trademarks, logos and copyrights are the property of their respective owners.