3D Dot Game Heroes confirmed for North America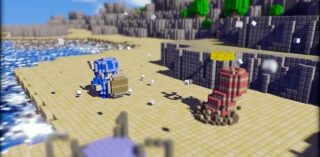 Well, this isn't surprising news, considering every FromSoftware game that released this generation has come to North America. Sony Computer Entertainment America has announced on Twitter that 3D Dot Game Heroes, FromSoftware's latest PS3 RPG developed by Silicon Studio, is coming to North America.
"No need to import," SCEA wrote in a Twitter status update, "3D Dot Game Heroes for PS3 is DEFINITELY coming to NA! Spread the word, more to come."
Sony's Jeff Rubenstein has told JoyStiq that SCEA is not the publisher, however the publisher has allowed the news to be "leaked" via Twitter. Expect to hear more of the announcement on the PlayStation.Blog first. We're guessing Atlus.
3D Dot Game Heroes releases in Japan on November 5th.