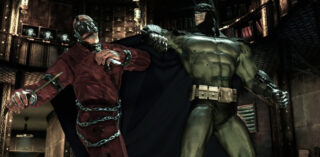 A moderator on the official Eidos Interactive forums has revealed this past Saturday that "news concerning the [Batman: Arkham Asylum] demo will be coming next week." That was last week.
Today, Eidos has confirmed that a demo will arrive on the PlayStation Network, Xbox LIVE, and PC on August 7, 2009. That's this Friday, folks. The demo opens as Batman and Commisioner Gordon return The Joker back to Arkham Asylum. However, The Joker sets a trap sending the occupants of Arkham Asylum after Batman.
The demo's already available at any GameStop on the PlayStation 3 demo kiosks if anybody is in that much a hurry to try it out, or needs to stop by GameStop anyway.
Batman: Arkham Asylum Demo Available August 7

The consumer demo for Batman: Arkham Asylum™, published in the United Kingdom by Eidos Interactive, will be available for the Xbox 360® video game and entertainment system from Microsoft, PLAYSTATION®3 entertainment system and Games For Windows® LIVE worldwide on August 7. The full game will be available at retail stores nationwide in the United Kingdom beginning August 28th.

The demo will be offered on Xbox LIVE® Marketplace for Xbox 360 and PlayStation®Network for the PLAYSTATION 3. Fans can visit www.batmanarkhamasylum.com for details on how to download the Games For Windows LIVE version.

The Batman: Arkham Asylum™ demo opens as the DARK KNIGHT and COMMISSIONER GORDON return The Joker back into confinement at ARKHAM ASYLUM. But things soon fall apart as THE JOKER gains the upper hand and springs a trap, setting Arkham Asylum's occupants upon Batman. The demo offers gamers a taste of the fierce FreeFlow™ combat system, the cunning stealth of the Invisible Predator™ mechanic, and the feeling of becoming the WORLD'S GREATEST DETECTIVE as they navigate Arkham Asylum's imposing Intensive Treatment facility. Players can unlock character bios, as well as get a sneak peak at some of the infamous foes that BATMAN will encounter within the cavernous and macabre confines of Arkham Asylum.

Featuring amazing graphics within an intense, immersive setting, Batman: Arkham Asylumâ"¢ exposes players to a unique, dark and atmospheric adventure that takes them to the depths of Arkham Asylum – Gotham City's psychiatric hospital for the criminally insane. Gamers will move in the shadows, instigate fear amongst their enemies, and confront The Joker and Gotham City's most notorious villains, including Harley Quinn, Bane, Killer Croc and Poison Ivy, and the newly revealed Scarecrow, who have taken over the asylum.

Batman: Arkham Asylumâ"¢ has been rated T for Teen in North America. For more information on the title, please visit: www.batmanarkhamasylum.com.