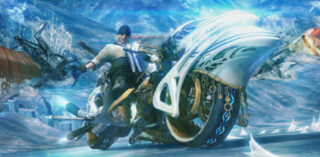 According to Yoshinori Kitase, producer of Final Fantasy XIII, the Xbox 360 port of the former-PlayStation 3 exclusive RPG will not limit the game in any way.
Development on the Xbox 360 port of Final Fantasy XIII only began shortly after the launch of the Japanese PlayStation 3 demo bundled with Advent Children Complete.
Fans of the legendary RPG series have been concerned that the Xbox 360 port would limit the game due to limitations of the DVD disc format such as with storage. However, Kitase turned that one down.
"The team is targeting to create an equal experience on both the 360 and the PS3, so there are no limitations." Kitase said. "For example, right now we're working on the PS3 version first, and once we've completed that we'll really know how much game there will be to fit onto the Xbox 360 discs.
"So we don't know how many discs it'll be housed on for 360, but there won't be a chance that we'll compromise anything because, oh it didn't fit in the 360 discs so we'll have to take it out of the PS3 version, or vice versa."
Good to hear that the game won't be downsized in anyway. Here's hope for Japanese audio.
Square Enix: 'No chance' 360 will compromise PS3 FFXIII [Video Gamer]