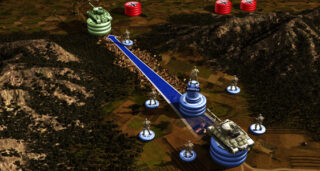 Ubisoft has announced R.U.S.E. today, in development at Eugen, the developers of Act of War: Direct Action. The upcoming real-time strategy game is defined as "one of a kind".
R.U.S.E. allows players to bluff their enemies to lead their nation to victory, controlling the action using views that range seamlessly from the heart of the battlefield to the full theatre of war.
"With R.U.S.E., Ubisoft is once again shaking up a genre, offering an RTS with a twist that will thrill gamers," said John Parkes, EMEA marketing director at Ubisoft. "Ubisoft is known for innovation and R.U.S.E. continues that tradition, offering the most immense and detailed maps ever seen in an RTS. Players can explore the maps using IRISZOOM Engine, which provides an aerial, smooth interaction unlike anything ever seen before."
R.U.S.E. is scheduled to release within Ubisoft's fiscal 2009/2010 for the PlayStation 3, Xbox 360, and PC. Hit the gallery for the first screen.
UBISOFT® ANNOUNCES NEW INTELLECTUAL PROPERTY, R.U.S.E.TM

March 24, 2009 — Today, Ubisoft announced the launch of R.U.S.E., a new intellectual property developed by Eugen Systems, creators of the critically acclaimed strategy title Act of War: Direct Action™. R.U.S.E. is scheduled for release on Windows PC, the Xbox 360® video game and entertainment system from Microsoft, the PlayStation®3 computer entertainment system for fiscal year 2009/2010.

R.U.S.E. is optimized for Intel's latest core processors, including the Intel® Core™i7 processor, and will be demonstrated for the first time in public at the Intel booth during the Game Developers Conference (GDC) at Moscone North Hall, booth #6006 at 5:00 PM Pacific on Wednesday March 25 in San Francisco.

R.U.S.E. is a one-of-a-kind real-time strategy game that allows players to bluff their enemies to lead their nation to victory, controlling the action using views that range seamlessly from the heart of the battlefield to the full theatre of war. Players will be plunged into the action thanks to the exclusive IRISZOOMTM Engine which offers an intuitive interface that allows for smooth, rapid transitions from a birds-eye view of the entire conflict, down into the heat of the battle and vice versa.

"With R.U.S.E., Ubisoft is once again shaking up a genre, offering an RTS with a twist that will thrill gamers," said John Parkes, EMEA marketing director at Ubisoft. "Ubisoft is known for innovation and R.U.S.E. continues that tradition, offering the most immense and detailed maps ever seen in an RTS. Players can explore the maps using IRISZOOM Engine, which provides an aerial, smooth interaction unlike anything ever seen before."

Ubisoft and Intel are committed to working together to ensure R.U.S.E. takes full advantage of Intel technologies. "Ubisoft and Intel are demonstrating some of the benefits gamers will experience when playing R.U.S.E. on the Intel® Core™i7 processor based platforms," said Elliot Garbus, vice president Intel Software and Services Group, general manager Visual Computing Software Division. "Gamers will experience more immersive game play with smooth zooming from satellite to ground view, superior AI delivering more complex unit movements and more realistic physics throughout the game."

In R.U.S.E., players use their brain as the ultimate weapon, fighting a war of perception, where the ability to deceive and mislead the enemy determines success. A first in a strategy game, R.U.S.E. reinvigorates the genre by using deception to give new-found depth to the game play.

To learn more about R.U.S.E., visit www.rusegame.com