Nobilis and Frozenbyte Announce Trine for PlayStation Network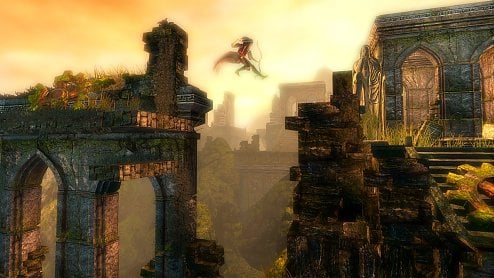 Nobilis and Frozenbyte, developers of Shadowground, have today announced a new fantasy action game, titled Trine, for the PlayStation Network and PC.
Trine, due to release Q2 2009, allows players to use physics-based objects to solve dangerous puzzles and destroy enemies. The game gives you access to three characters: Thief, Wizard, and Warrior, each with their own strengths.
No price for the title was mentioned, but hit the jump for a trailer and press release. You can view the three released screenshots here.
Nobilis and Frozenbyte announce TrineTM on the PlayStation® Network and PC.

Lyon, France, the 5th of December 2008 – Immediate release. Nobilis and Frozenbyte are proud to announce that the fantasy action game "Trine™" (PlayStation® Network and PC) will be released in Q2 2009.

Trine™ is a fantasy action game where the player can create and use physics-based objects to beat hazardous puzzles and threatening enemies. Set in a world of great castles and strange machinery, three heroes are bound to a mysterious device called the Trine in a quest to save the kingdom from evil…

The gameplay is based on fully interactive physics – each character's different ability helps the player battle an army of un-dead and defeat hazardous contraptions. The player can at any time freely choose whoever is best suited for the upcoming challenge or puzzle: The Wizard is able to summon objects to help solve puzzles and create new ways to overcome obstacles, the Thief uses her agility and dead-on accuracy to swiftly surprise the monsters, and the Warrior unleashes mayhem and physical destruction wherever he goes.

"This is the first game we publish on the PlayStation® Network and we are thrilled to work with Frozenbyte on this very exciting game project!" declares Arnaud Blacher, CEO of Nobilis Group.

"Trineâ"¢ is a true testament to Frozenbyte's new strategy focusing on original IP. We can't wait to have the game released on the PlayStation® Network and PC," said Lauri Hyvarinen, CEO of Frozenbyte, and he continued: "Nobilis has been a great partner to us all these years and we look forward to combining our efforts even more closely to make a great game!"

Official website: http://trine-thegame.com/