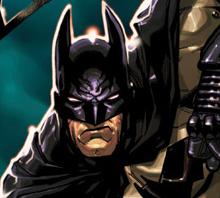 "There are a lot of supervillains in this game. This is the first Batman game where you're going to get to see and fight against all of the big supervillains, and they're going to be represented in a way you've never seen before."
Some of the villains GameInformer got to see during gameplay included Joker, Harley Quinn, Killer Croc, and Zsasz. They also noted they saw some concept art for characters such as Penguin, Riddler, Scarecrow, Poison Ivy, and Mr. Freeze, along with some others that they didn't want to "ruin" for us.
The player can travel anywhere anytime they want in Arkham, with no limit to certain areas. You can roam the Asylum as freely as you please.
The game will not be regular stealth. The developers think using stealth makes Batman look too weak, which he is not.
"If you look at a stealth game, it's about being weak and hiding…this is about being in a strong positions and them not knowing where you are. It's a very different fell. Predator gameplay we call it. Picking of the weak people."
Hit the link for scans.