Zenless Zone Zero second closed beta test sign-ups now available
New trailer and screenshots released.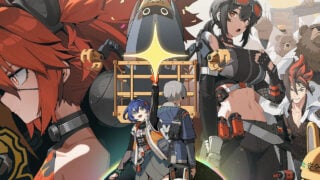 miHoYo has announced the second closed beta test for urban fantasy action RPG Zenless Zone Zero, also known as the "Equalizing Test." It will run across PC, iOS, and Android. Sign-ups are available now at the game's official website. A kick-off date and schedule will be announced later on.
Get the details below.
The title is returning with a series of changes and content updates that include new stories and explorable areas, more playable characters, re-designed combat mechanics, as well as a thoroughly overhauled city with new, immersive urban gameplay. The forthcoming beta test will kick off on PC, iOS, and Android, sign-up is now available on its official website.

Zenless Zone Zero is a brand-new urban fantasy ARPG by HoYoverse. In the game's story, contemporary civilization has been destroyed by a supernatural disaster known as the Hollows. Amidst this overwhelming calamity, the city of New Eridu has risen against the odds by harnessing the technology and resources necessary to combat the Hollow disaster, gradually evolving into the final beacon of modern civilization. Players will take on the role of a Proxy—a professional specialized in guiding people in their exploration of Hollows, and embark on an adventure with a group of unique companions to conquer unknown enemies and unravel the mysteries behind New Eridu.
The game features a standalone IP and a mixed narrative story-telling. In its latest beta, players will be able to explore a new story chapter that centers on Belobog Heavy Industries—one of the major factions in the game. Thanks to a series of immersive urban gameplay mechanics added to the upcoming beta, players will be able to probe into the Proxy Network known as Inter-Knot and take unusual commissions or play arcade games with friends, pet loveable animals, and roam around the vibrant Sixth Street.

Zenless Zone Zero also features a one-of-a-kind art style and music design that amplifies the feeling of audio-visual immersion. In the upcoming closed beta, the city of New Eridu will be further revamped with a full-scale visual update based on the previous beta. The game's track list will also be more modern, vibrant, and groovy. In addition, three new characters, each with their unique background and charm, will be coming to New Eridu to team up with players.

Apart from that, one of the game's defining features is its thrilling action. By strengthening the impact and rhythm of combat animations and introducing a brand-new Perfect Assist mechanic, the game's latest version is friendlier than ever to action game newcomers. At the same time, it introduces a newly developed challenge mode – Hollow Zero, which not only serves as a significant setting in the story but also is sure to meet the expectations of veteran action game players in terms of combat experience.
Zenless Zone Zero will be available for consoles, PC, and mobile. A release date has yet to be announced.
Watch a new trailer below. View a new set of screenshots at the gallery.
Put on Your Safety Helmet, We're Heading Out!
English
Japanese
Korean
Traditional Chinese