WitchSpring R coming to Switch in spring 2024
Currently available for PC.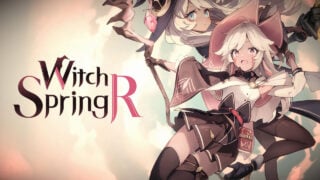 Publisher Pixmain and developer Kiwi Walks will release WitchSpring R for Switch in spring 2024, the companies announced.
WitchSpring R first launched for PC via Steam on September 26.
Here is an overview of the game, via its Steam page:
About

The story of a witch who is chased after by warriors.

WitchSpring R is a story-based RPG that combines elements of training, collecting, and exploring.

Outside, you can enjoy collecting magical ingredients, fighting against warriors and monsters, and developing stories with various characters.
At home, you can enjoy training your own witch by scheduling training, and fusing magic ingredients that can be collected from the field.

The witch's ending is enriched by the player's choice and the witch's growth.

Key Features

"Train" the witch to survive.

Running, meditation, swimming… train your witch through various training.
By fusing the collected magic ingredients, you can create tools to increase the witch's stats.
Add nourishments to your weapons for achieving advancement in your ideal areas, and create your own battling style.

"Collect" a variety of magic, tools, and pets.

Create items by fusing magic ingredients that can be collected from all over the forest.
Utilize different magic properties to engage in strategic battles.
Tame the monsters and make them your pets, so you can get help in the field and battle.

Enjoy a story-based "Adventure."

Progress the story and train Pieberry while exploring the field.
A friend? An enemy? Or…? Discover hidden stories through the interactions with the field's characters.
Sometimes you can even disguise yourself as a human and invade the village.
Switch Release Window Trailer