Outcast: A New Beginning 'Combat' trailer
Modify weapons on the fly, harness gadgets and abilities, and tame local wildlife.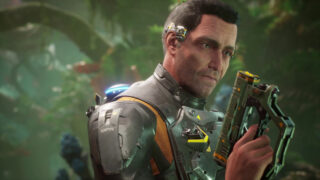 Publisher THQ Nordic and developer Appeal Studios have released a new trailer for single-player third-person action adventure game Outcast: A New Beginning introducing combat.
Get the latest details below.
The new combat trailer showcases the dynamic and strategic elements that await you in this immersive gaming experience. Modify your weapons on the fly, harness powerful gadgets and ancient abilities, and tame the local wildlife to drive back the invaders! To catch a glimpse of the thrilling third person combat action, watch the new trailer here: https://youtu.be/qUbr1ejN47Y

Modular Gun – Throughout the game, you'll find more than 30 different weapon modules that change the behavior of your gun. Combine modules to try different combat styles! With 24 different modules (eight are doubled) and up to six weapon slots, the number of combinations is massive. Spoiler: it's over 9000! If we consider all possible options, we're talking 906.192 combinations—feel free to do the math.
Shield – Use your shield to defend yourself—or to attack! It works both as an offensive and defensive weapon.
Jetpack – Your jetpack allows you to travel quickly but also aids in combat. Upgrade it as you progress through the game!
Talan Powers – You'll acquire helpful abilities by finishing a village quest – like anti-gravity powers or flying creatures dropping bombs on enemies. Those powers are a part of the natural ecosystem of Adelpha. But keep in mind: The better the job you did in helping those villages, the stronger your powers will be.
Outcast: A New Beginning is in development for PlayStation 5, Xbox Series, and PC (Steam). A release date has yet to be announced.
Watch the trailer below.
Combat Trailer