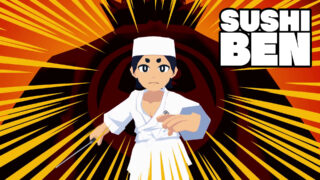 Virtual reality narrative adventure game Sushi Ben will launch for Quest via Meta Store on October 19 for $24.99 / £18.99 / €24.99 / 2,490 yen, followed by PlayStation VR 2, PC virtual reality headsets via Steam, and VIVE at a later date, developer Big Brane Studios announced.
Here is an overview of the game, via Big Brane Studios:
About

Featuring exciting 3D manga panels, Sushi Ben is a narrative adventure game where you'll fish, catch bugs, snap photos, and more, all to save a beloved local sushi bar from some dastardly landsharks!

You'll need to complete various tasks and help townspeople out of predicaments in order to earn their trust. Different narrative encounters will take place depending on your interactions with the game's NPCs.

Key Features

3D Manga Panels – A powerful visual storytelling tool unlike any virtual reality game before.
Activities Galore – Go fishing, bug catching, and dog walking—maybe even do a little ghost hunting on the side.
Writing by Hato Moa – Unique characters are brought to life by the narrative talents that created the critically acclaimed visual novel, Hatoful Boyfriend.
Full Japanese Voice Acting – Characters are voiced by talented Japanese voice actors.
Vibrant Music, Visuals, and Aesthetic – Japanese animation and manga are embedded in Sushi Ben's DNA. You'll see familiar tropes, feel a nostalgic atmosphere, and hear music that'll take you to the heart of Kotobuki Town.
Player-Inclusive Immersive Experience – Change the color of your hands, and decide which hand to wear your watch on.
Comfortable Gameplay – Supports room scale, standing, and seated gameplay
Watch a new trailer below.
Quest Release Date Trailer