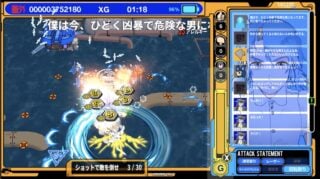 Publisher BEEP and developer RS34 have delayed vertical scrolling shoot 'em up Radirgy 2 from its previously planned December 7, 2023 release date to March 28, 2024 in Japan. It will be available for PlayStation 5, PlayStation 4, and Switch.
According to the publisher, the delayed was necessary for further quality improvements and additional specifications.
Here is an overview of the game, via BEEP:
Radirgy is a vertical shoot'em up released as an arcade title back in 2005.

Through its unique style as the "Superflat Denpa-kei Shmup," it slowly gained its popularity along a variety of home console re-releases.

Radirgy 2 is a greatly evolved title in the latest Radirgy series, that aims reconceptualize the denpa-kei shmup.

In this game, you control the flying mech "Murasame," and experience its evolution as you fight through the hordes of relentless enemies.