Zenless Zone Zero adds console version
Watch the full Tokyo Game Show 2023 Special Program.
miHoYo will release a console version of urban fantasy action RPG Zenless Zone Zero, the developer announced.
The end card for the Zenless Zone Zero Special Program at Tokyo Game Show 2023 revealed that the game is coming to "consoles, PC, and mobile." Previously, only PC, iOS, and Android were announced.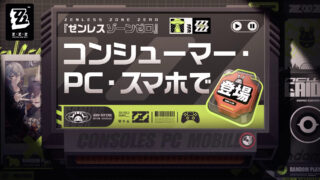 Here is a summary of the program, via miHoYo:
HoYoverse's highly anticipated urban fantasy action RPG Zenless Zone Zero, which just released its latest trailer at Gamescom 2023, continues to be extremely popular at Tokyo Game Show. In this online program, Yuka Iguchi (Japanese voice actress of Koleda) and Yumi Igarashi (Japanese actress cast of Corin) appeared as guests, leading players to have an in-depth understanding of the worldview of New Eridu, the last urban civilization in Zenless Zone Zero, through aspects such as the city and character design. It was also announced during the program that Zenless Zone Zero will have a console release to meet the needs of more players.
While specific console platforms were not announced, the Gamescom 2023 teaser trailer for Zenless Zone Zero appeared to hint at a PlayStation release.
Watch the Tokyo Game Show 2023 Special Program below.
Tokyo Game Show 2023 Special Program