'Willy Wonka meets BioShock' first-person shooter Twisted Tower announced for PC
Strep right up into the world's bloodiest game show.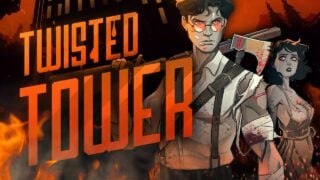 Publisher 3D Realms and Pinstripe developer Atmos Games have announced Twisted Tower, a "Willy Wonka meets BioShock" first-person shooter for PC (Steam). A release date was not announced.
Here is an overview of the game, via 3D Realms:
About

BioShock meets Willy Wonka. Climb the ever-changing 1920s Twisted Tower game show! Every twisting floor has a variety of paths to choose, horrifying enemies to slaughter, and clues about your dark past. Can you get to the top and win the heart of the love of your life?

Step right up into the Twisted Tower, the world's bloodiest game show! Are you lucky enough to ascend the treacherous floors, confront the tower demons, and reach the top?

Key Features

It can't be… you found a Velvet Ticket! Join the world's most famous toy-maker, Mr. Twister in his ever-changing Twisted Tower!

Inspired by BioShock and Willy Wonka.
The path you choose is up to you.
Stay focused! The tower is constantly changing!
Discover a haunting story of a teenage boy in 1922 seeking to prove his worth to the love of his life.
Avoid deadly traps, locked doors, frightening enemies inspired by children's shows, all at the command of a mysterious toy maker, Mr. Twister.
Impress your childhood crush as she watches the live broadcast to millions of fans in 1922.
Collect wads of cash and purchase new weapons and abilities.
Explore a puzzling tower inspired by Willy Wonka's Chocolate Factory & Bioshock.
Discover the century old mysteries of the Twisted Tower, and your dark and twisted past.
Watch the announcement trailer and a developer diary below.
Announce Trailer
Developer Diary