The Last Oricru 'Final Cut' update now available
Action RPG price cut by 50 percent.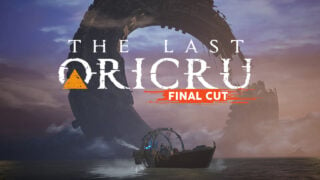 Publisher PLAION and developer GoldKnights have released the "Final Cut" update for action RPG The Last Oricru, which adds a raft of new features and quality of life features to the game. The price has also been cut by 50 percent to $19.99 / £15.99 / €19.99.
"We're humbled that so many gamers are enjoying their time on Wardenia, creating their own stories with impactful choices to make," said GoldKnights executive producer Vladimir Gersl in a press release. "For us, our community is everything and we've taken our time to hear what players are telling us and embark on hugely significant updates to expand their experience. The changes available via our new update are not simple window dressings, instead, the entire game has been radically improved from easier navigation, more intense combat, smoother difficulty progression and so much more. We can't wait for new gamers to discover The Last Oricru: Final Cut and look forward to hearing from those already embarking on their adventures in Wardenia."
Here is an overview of the update, via PLAION:
An action-based RPG like no other, the tale of The Last Oricru: Final Cut unfolds across the mysterious world of Wardenia, an alien planet on the brink of all-out war. Taking interactive storytelling to the next level, The Last Oricru: Final Cut features a fantasy world blending sci-fi and medieval elements to deliver a thrilling experience like no other. On Warenia gamers assume the role of Silver, a hero destined to seize his destiny in an epic adventure, which can be enjoyed in single player mode, or co-op via online or couch play.

Ditching the linear narrative commonplace to RPG adventures, The Last Oricru: Final Cut relies on the player to make decisions that are destined to shape their experience. With multiple conflicting races to placate, a deep and impactful combat system to master and danger lurking behind every corner, each and every decision takes the story in new and unexpected directions, presenting a truly unique adventure that's different for every player.

First available in late 2022, The Last Oricru: Final Cut is a re-imagining of the game, stacked with significant updates and delivering a refreshed gameplay experience designed to offer greater depth, new content and significant gameplay changes based on community feedback. Ideal for novice adventurers and seasoned vets alike, The Last Oricru: Final Cut is back and better than ever! Some of the exciting new features include:

Smoother difficulty progression, accessible to novice gamers and passionate RPG gamers.
In-game map introduced including navigation points and objectives
All-new hint system including short tutorials and opportunities for gamers to master in-game mechanics.
Two all-new locations to explore complete with new puzzles and bonus rewards.
Huge update to online co-op play. Optimised net code producing a more stable experience.
Combat improvements include improved parry system and stamina management.
Improvements to boss fights throughout the game with special emphasis on the final two bosses.
Steam Deck optimisation for PC gamers, providing a fluid, stable experience for on-the-go gamers.
New pricing providing exceptional value for money.
The Last Oricru is available for PlayStation 5, Xbox Series, and PC via Steam.
Watch a new trailer below.
"Final Cut" Update Launch Trailer