Teardown for PS5, Xbox Series launches November 15
Available via PlayStation Extra and Premium on day one.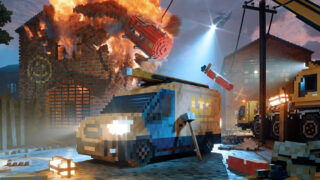 The PlayStation 5 and Xbox Series versions of voxel-based heist game Teardown will launch both physically and digitally on November 15, publisher Saber Interactive and developer Tuxedo Labs announced. It will also be part of the Game Catalog for PlayStation Plus Extra and Premium members on day one.
The game will be available in the following editions:
Standard Edition ($29.99)

Teardown base game (also available to PlayStation Plus Extra and Extra and Premium subscribers as one of their additions to the Game Catalog in November)

Deluxe Edition ($39.99)

Teardown base game
Downloadable content "Time Campers"
Upcoming downloadable content "Folkrace"

Ultimate Edition ($49.99)

Teardown base game
Downloadable content "Time Campers"
Upcoming downloadable content "Folkrace"
Upcoming third downloadable content
Upcoming fourth downloadable content
Quilez R0113R Robot
The following downloadable content is also planned:
Time Campers (available at launch) – A campaign expansion set in the wild west. The new expansion adds to the experience in many different ways, introducing a new storyline that takes you back in time, equips you with old-fashioned weapons and tools, and sets your destructive sights upon a dusty mining town. It's a departure from the contemporary setting of Teardown's main campaign, but the heist concept feels right at home in the era of elaborate bank robberies. We had a lot of fun creating new maps and tools out of period-appropriate materials, exploring new types of architecture, and introducing new interactive elements, like the horse and wagon.
Folkrace (spring 2024) – The Teardown experience goes well beyond handheld tools, as you often need the help of vehicles and construction equipment to complete your missions. To make this a rewarding part of the game, we've invested a lot of time into the driving experience. The downloadable content "Folkrace" will take it a step further, putting you behind the wheel of a fleet of unique vehicles to take on new racing modes and destructive challenges.
Downloadable Content #3 (2024)
Downloadable Content #4 (2024)
Teardown first launched in Early Access for PC via Steam on October 29, 2020, followed by a full release on April 21, 2022.
Here is an overview of the game, via Saber Interactive:
About

Teardown is the best-selling, award-winning, fully destructible, voxel-based sandbox heist game. The critically-acclaimed PC game comes to consoles with a full 40-mission story campaign, the "Art Vandals" campaign expansion, special level challenges, Sandbox mode, and more. Console players will also have access to a curated collection of the community's best mods from PC, as well as console-friendly user interface and haptic feedback on PlayStation 5 DualSense controllers.

Winner of multiple awards, including Excellence in Design at the Independent Games Festival, with over one million copies sold on Steam, Teardown's realistic physics and fully destructible, voxel-simulated, ray-traced world give players immense freedom to discover unique emergent gameplay solutions to nearly any challenge.

Plan and pull off the perfect heists almost any way you can imagine with an expanding arsenal of tools, plus anything else you can get your hands on. Bring down walls with vehicles, create shortcuts with explosives, stack objects to reach higher places, and much more—but be ready to improvise when everything goes haywire. Just don't get caught!

Key Features

Plan and execute the perfect heists with emergent, physics-based gameplay, fully destructible voxel environments, and realistic simulations for debris, fire, water and more.
Create your own unique solutions to any challenge with a range of tools, including sledgehammers, blow torches, explosives and more, plus vehicles like cars, excavators, loaders, plows and cranes.
Full Story Campaign and Expansion – Take on 40 missions of escalating stakes in the main campaign, plus even more action in the bonus "Art Vandals" expansion.
Sandbox Mode – Play around with unlimited resources and an abundance of vehicles. Spawn in objects and experiment with your full set of tools. No pressure, just pleasure.
Curated Mods – Discover new maps, scenarios, mini-games, tools, vehicles and other creations with a curated collection of the community's best mods at your fingertips.
Enhanced for Consoles – Experience haptic feedback on PlayStation 5 DualSense controllers and revamped user interface for greater ease of use on consoles.
Watch a new trailer below.
Consoles Release Date Trailer