Sunshine Manor coming to PS5, Xbox Series, PS4, Xbox One, and Switch on October 6
Horror RPG currently available for PC.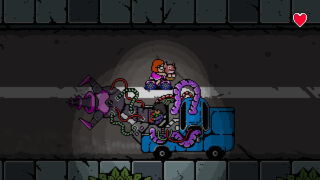 Publisher Hound Picked Games and developer Fossil Games will release horror RPG Sunshine Manor for PlayStation 5, Xbox Series, PlayStation 4, Xbox One, and Switch on October 6, the companies announced.
Sunshine Manor first launched for PC via Steam on October 28, 2021.
Here is an overview of the game, via Hound Picked Games:
Welcome to Sunshine Manor, a spine-chilling retro horror adventure!

Ada is a reluctant adventurer who accepts the challenge to spend a night in the infamous haunted Sunshine Manor and encounters ghosts, demons and other blood-soaked horrors along with quirky characters, unique challenges and a cute but eerie atmosphere.

Travel between the mortal and demon realms, outwit the evil Shadow Man, and solve devious puzzles while exploring the mansion. Enjoy stunning hand-drawn pixel art graphics and an 80s-inspired soundtrack that combine perfectly to create a hauntingly thrilling experience.

Uncover the mansion's dark secrets and step into a captivating journey that blends horror, comedy and a sprinkling of retro charm.

You'll Have Chills… and They WILL Multiply!

Sunshine Manor is a thrilling game where you take on the role of Ada McReady, who finds herself unexpectedly trapped in an eerie haunted house while out on a Halloween adventure. As you explore the manor, you'll encounter ghosts, demons, a a host of other spooky creatures, all while utilizing unique psychic powers. Your ultimate goal is to banish evil entities that threaten your life and uncover the mysteries that lie within the walls of the manor. Beware of The Shadow Man, who could be around the very next corner, watching and waiting. With its captivating storyline and immersive gameplay, Sunshine Manor is a must-play for fans of horror and mystery games.

Key Features

An original one hour and 22 minutes atmospheric soundtrack written exclusively for the game.
Sinister outrageously weird story that builds to the events of the infamous Camp Sunshine massacre!
Beautiful hand-drawn 8-bit-esque pixel art in the retro mold.
Inspired by classic horror movies of the 1980s and beyond.
Six to eight hours of gameplay.
Deviously devised linear story to constantly uncover secrets and build understanding of the Sunshine universe and Sunshine Manor.
English, French, German, Spanish, Russian, and Japanese language localization.
Watch the consoles release date trailer below.
Consoles Release Date Trailer