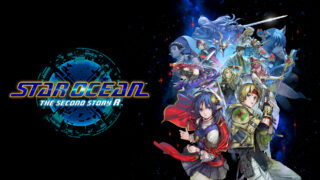 A demo for action RPG remake Star Ocean: The Second Story R is now available for PlayStation 5, PlayStation 4, Switch, and PC Steam, publisher Square Enix and developer Gemdrops announced.
Get the latest details below.
■ Story

Claude C. Kenny, a young officer in the Pangalactic Federation, is sent to investigate a mysterious dome discovered on Planet Milokeenia on the orders of Ronyx, his father and commanding officer. There he discovers an unfamiliar-looking mechanism. Hoping to demonstrate his courage, he ignores Ronyx's objections and touches it, only to disappear in a blinding flash.

Later, Claude wakes up surrounded by lush forest and realizes he's been transported somewhere far away.

Trying and failing to get in contact with Ronyx, Claude scouts out the area around him, only to discover a monster just as it's about to attack a young girl.

Rushing into the fray, Claude fires away with the Phase Gun his father gave him.

Seeing Claude rescue her with this bright, lethal force, the girl—Rena Lanford—mistakes him for a figure from the myths of her homeland, a hero who bears a Sword of Light.

In order to properly thank him, Rena takes Claude to the village of Arlia, hoping against hope that he could be the one to save the entire nation…

■ Key Artwork

—Illustrated by Yukihiro Kajimoto.

■ Remake Features: Battles

Fun, Thrilling Team-Action Battles!

The real-time action combat allows you to unleash special arts skills with a simple push of a button. Battles have become even more strategic with new elements added to the combat system.

These features allow you to stun enemies by layering attacks or to prompt an ally character not currently in your party to perform a follow-up attack. The original effects and animations have been further refined, making combat even more exhilarating.

Thrilling and Visually Explosive Battles! – Enjoy fast-paced combats and strategically defeat foes with new mechanics such as "Break" and "Assault Action" dealing massive damage and featuring protagonists from across the Star Ocean series.
Super-Flashy and Exhilarating! – Renewed battle effects. Incredibly rich effects create battles bursting with energy.
Cooperate with Allies! – Stun your enemies to stop them in their tracks and deal major damage with follow-up attacks from your allies. Fight alongside your allies to eradicate the enemy in one fell swoop.

New "Break" System to Neutralize and Break Down Foes!

Each enemy character has a Shield Value. When it hits zero, they are temporarily stunned, letting you deal more damage. Use this opportunity to hit them as hard as you can! Additionally, each character's special arts skills are divided by the type of damage they deal, from "HP-focused" to "Balanced" and "Break-focused," adding a tactical factor as you decide the best skill to use for the situation.

—Target a specific foe to aim for a Break!

—Breaking the lead enemy causes a Break Effect! The Break state is chained to nearby enemies on the field, putting you at an advantage.

Combo Link: Easy Controls Let You Overwhelm Foes in Style

Each character's special arts skills can easily be launched with the L1 and R1 buttons. You can also tap L1 or R1 twice to use the Combo Link, which lets you quickly launch a preset special art combo. Simple controls enable flashy, powerful sequel attacks, lending extra speed and excitement to every battle.

—From the fancy Mirror Blade combo strike…

—…to the all-powerful Dragon Roar finisher!

Assault Action: Team Up With Allies to Go for Sequel Attacks!

Your Assault Gauge fills up as time passes during battle. When it's maxed out, you can launch an Assault Action that calls upon your party members to execute follow-up attacks.

The special arts skills each character uses can be set up in advance; combine them with special arts from the character you're controlling to create your own original combos!

—If an enemy attack puts you in Break mode…

—Call for help from your reserve characters!

—Use powerful special arts to turn the tables!

Star Ocean Evolved! Mind-Blowing Battles With Eye-Popping Visuals!

The combat visuals have been completely upgraded for this title. Battles have been given a facelift, and the combat is more fast-paced, giving the fights a gorgeous, refined feel. From Claude's special arts skills like "Dragon Roar" to flashy symbology strikes like Celine's "Southern Cross" or Rena's "Star Flare," the latest visual techniques make every battle more exciting than ever.

—Southern Cross

—Extinction

■ Private Actions

How You Talk with Friends Changes the Story in Many Ways

During the game, your party will split up at certain points and temporarily go their own ways, letting your protagonist have individual story events with them. These Private Actions can affect how the other characters see you, and some may even lead to major changes in the overall plot. There are also far more Private Actions than can be seen in one playthrough, helping add depth to the story each time.

—Private Actions can change how intimate characters are with you. They may even affect the ending…?

—Private Action points are marked on the map, so check them out when you visit a town!

■ Item Creation

Make Your Own All-Powerful Weapons and Armor! Traditional Item Creation Evolved!

Make your own all-powerful weapons and armor! Traditional Item Creation evolved! Item creation, a hallmark of the series, has advanced even further, letting you add special effects known as Factors to the items you make. Be it an all-mighty weapon that also heals HP or an accessory that constantly refills MP, you can create unique items no one has ever come up with before, letting you go deeper than ever with party building.

—Item Creation allows you to imbue items with special effects known as Factors, which are different from regular effects.

■ Super Specialties

Cook, Publish, or Even Conduct an Orchestra With Your Friends!

In addition to item creation, you can give Skill Points to your characters to help them learn various special skills. When characters with the right combination of skills come together, it'll unlock a powerful Super Specialty. These include all kinds of useful skills for adventuring—for example, the Master Chef Super Specialty lets you cook dishes with powerful effects that cannot be made with regular Cooking. Similarly, the Bunny Call Super Specialty calls a Bunny into the field, which you can ride on and use to traverse the field much more quickly than with normal travel.

—Use Master Chef to create dishes with super-powerful Effects!

—With the Bunny Call Super Specialty, you can travel around the field on the back of a Bunny!

■ Minigames

From Cute (but Heated) Bunny Races to the Pulse-Pounding Arena!

You'll unlock access to a variety of minigames as you proceed in the story. These include the Arena, where you fight tough battles while restricted by certain conditions, and Bunny Racing, where adorable bunnies race hard and potentially earn you a fortune! Win these games to earn prizes and rewards, but don't let them distract you too much from the adventure!

—Test your skills against a wealth of foes in the Arena!

—Earn fabulous prizes in Bunny Racing!

■ World Map Fun: Fishing

Becoming a Fishing Master in Rivers, Oceans, Wells, or Even Outer Space!

Fishing spots can now be found on the world map, letting you enjoy fishing at rivers, oceans, and even wells or swimming holes. You may also find these spots in dungeons and other dangerous locales—but if you reel in the wrong creature, you could have a fight on your hands!

In addition to expanding the game's exploration aspect, you can also exchange the fish you catch with NPCs for useful items. Some speak of uncatchable "giants" lurking somewhere out there… but travel far enough, and you might just complete your Fish Encyclopedia!

—Fishing spots exist on the world map, as well as at riversides in town.

—Use Fast Travel at any time to return to locations that you have already visited.

—Reel the Fish Collector, a new tutorial character.
Star Ocean: The Second Story R is due out for PlayStation 5, PlayStation 4, Switch, and PC via Steam on November 2 worldwide. Read more about the game here.
Watch a new trailer below. View a new set of screenshots at the gallery.
System Trailer
English
Japanese
Screenshots