SAND LAND 'Story' trailer
Original character teased.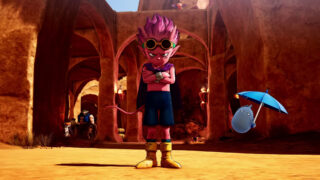 Publisher Bandai Namco and developer ILCA debuted the official story trailer for SAND LAND, the action RPG based on the Akira Toriyama manga, during its Tokyo Game Show 2023 stage event.
The end of the trailer teases an original character that did not appear in the SAND LAND manga or movie:
Get the latest details below.
This new trailer of SAND LAND shows more about this world turned into a scorching desert, where the greed of the King makes life impossible for its inhabitants by controlling access to water. Sheriff Rao strongly believes another oasis, capable of ending the terrible drought, is here somewhere…

To find this Legendary Spring, Rao knows he cannot undertake this dangerous journey alone and travels to the Demon Village to seek for help. With the consent of the King of Demons, Beelzebub the Friend Prince and his chaperone Thief join Sheriff Rao on the thirstiest adventure ever, searching the world for this life-saving spring.

As they progress in their journey, the group realizes they shouldn't let their guard down as heat and thirst are not their only enemies. General Are, accompanied by the Royal Army, will pursue Beelzebub and his companions around the world and try to stop them.
SAND LAND is in development for PlayStation 5, Xbox Series, PlayStation 4, and PC (Steam). A release date has yet to be announced.
Watch the trailer below. View a new set of screenshots at the gallery.
Story Trailer
English
Japanese
Screenshots